a social moderate?
After our bible study yesterday, my brother Andy and I were talking about my (lack of) political ideology. A young lady who had been at the bible study commented that there must be some kind of quiz I could do, that would show me what my political stance was. Facebook should have it. With a few clicks Andy had the Political Spectrum site up on Mum's laptop, and was asking me the first of sixty questions. Sixty was pretty daunting but the questions were really thought - provoking, and a lot of them were about concepts I hadn't thought through before.
Before I got through the quiz I was pretty convinced that I was a strong conservative - at least, that seemed the most likely ideology to fit my ideas. But this is what the quiz came up with:
My Political Views
I am a right social moderate
Right: 4.15, Libertarian: 0.8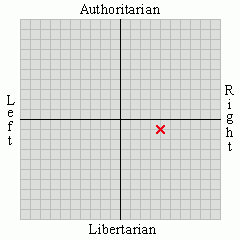 Political Spectrum Quiz
Well, I've never heard of a 'Social Moderate' before! It sounds sort of Socialist, except for the 'Right' part. I also surprised myself with my leaning towards libertarianism - where did that come from?
At least I know now where I am on the political spectrum, but that doesn't make deciding what I really believe about difficult issues much easier. It just seems to give me something to tell people if they ask me where I am politically - but would they understand what I meant if I did tell them? I mean, whoever heard of a Right Social Moderate anyway?
I'm keen to know what other people's political ideology is, and why they hold it. Is it something you take to it's obvious extreme so that you're being consistent, or do you stop somewhere along the line?
I'm trying to understand whether you should take something you completely agree with to it's logical conclusion, in order to be consistent, or whether you should stop somewhere. If you don't completely agree with it, should you believe it?